Take the CrossFit Challenge at CrossFit Chimney Rock
Friday, July 28 6-8 P.M. $20 Donation Suggested
Featuring Tricky Tray Basket Auction with over 25 Baskets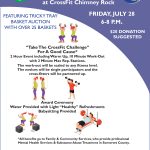 "Take the CrossFit Challenge"
2 Hour event including Warm up, 10 Minute Work-out with 2 Minute Max Rep. Stations.
The work-out will be scaled to any fitness level. The novices will be single participators and the cross-fitters will be partnered up.
Award Ceremony
Water Provided with Light "Healthy" Refreshments
Babysitting Provided
All benefits go to Family & Community Services, who provide professional Mental Health Services & Substance abuse treatment in Somerset County.
Register:
https://crossfit-chimney-rock.triib.com/events/family-community-services-of somerset-county-crossfit-challenge