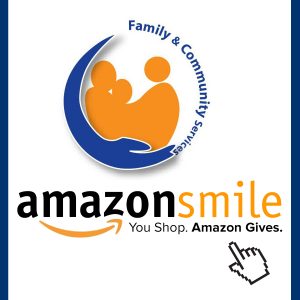 Are you an Amazon Shopper? Why not help Family & Community Services of Somerset County and shop at the same time!
Amazon is one of the most widely used websites in the world and provides nonprofit organizations a way to earn additional support and a way to give through their program AmazonSmile. Amazon has donated over $192,000 to other charities and is now helping FCS!
AmazonSmile allows customers to donate to a chosen charity of their choice with no extra cost and provides the same shopping experience we are all used to on Amazon, including the same products and prices. By using AmazonSmile 0.5% of the price of eligible purchases is donated to FCS once you register.
In order to help FCS provide support to our Somerset community, you must simply select Family & Community Services of Somerset County as your charity of choice by visiting our link here
This slideshow requires JavaScript.
Customers cannot make direct monetary donations to FCS through AmazonSmile but  if you are interested in making a direct donation visit the donations page on our website by using Paypal or a credit card.
Don't forget to change your Amazon bookmark to smile.amazon.com and tell your friends and family by sharing this information by word of mouth and your various social media channels!